The restaurant of Hotel Elios in Bellaria Igea Marina
You are always cooking thinking about someone else, otherwise you are just preparing something to eat
With this sentence we want to explain you our idea of cuisine, and that for us that someone are our guests, to whom we always think and to whom we want to offer varied stimulating culinary emotions.
Our kitchen always offers products from organic agriculture and farm-to-table products, to rediscover the authentic flavours of the territory of Emilia Romagna.

Always attentive to the genuineness of the ingredients and the freshness of the raw materials, our restaurant offers appetizing authentic dishes from Romagna and Italy cuisine, like homemade pasta, our piadina and crescioni, the traditional seafood menu, all paired with excellent wines from the best Romagna and Italian cellars, like Sangiovese and Albana wines.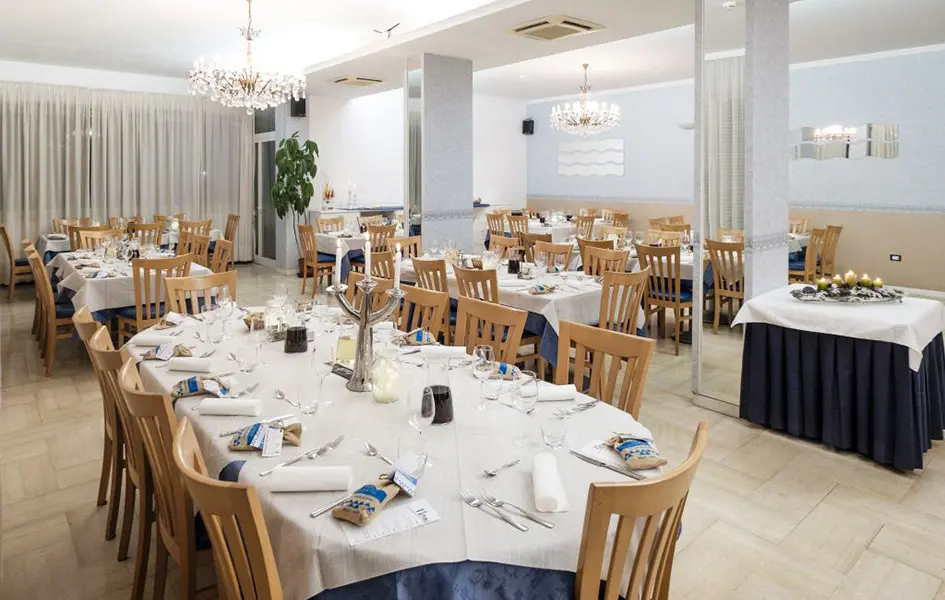 Homemade ice cream prepared in our kitchen, delicious desserts prepared by our chef and fresh fruit are available at the end of each meal.

Always served with a smile!

For lunch and dinner a choice between different menus, including a vegetarian option.

In case of diets, allergies or food intolerances, it will be a pleasure for us to meet your needs. Let us know in advance and we will take care of the rest!